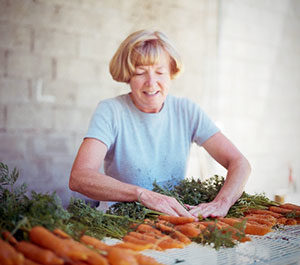 Every day, small farmers and small business owners in the Rogue Valley work hard to develop the highest-quality foods and food products. Whether they are planting a new row of organic crops, roasting an award-winning blend of coffee, baking gluten-free bread, or harvesting fresh herbs for tea, they are part of the growing community of local producers the people of Southern Oregon have grown to love.
Getting these great local products to your table, however, can be challenging. You may not have time to visit the growers' market each week, and grocery stores don't stock many of the items available.
Rogue Produce to the Rescue
Rogue Produce is your solution! Unlike other CSAs, Rogue Produce offers a diverse range of items from a continually expanding community of farmers and producers year-round! You also have the option to fully customize your order—or even skip a week if desired. You can even place a one-time order or send a gift to a loved one.
We are passionate about bringing you local products in the most convenient, fun, and informative fashion. Check out your local Online Farmers' Market to see what we have on offer this week and get started today!