Hi Everybody!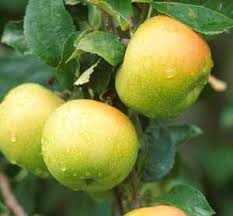 Lots of great stuff to choose from this week, including many new delicious items!   Valley View Orchard is supplying us with our first batch of frozen sliced peaches, and frozen pitted cherries (these are amazing!).  They will also have fresh picked apples, including Golden and Red Delicious, and Newton Pippin varieties.  We'll also have Valley View's Bartlett and Bosc pears available.
Cherry tomatoes are on sale from Happy Dirt Veggie Patch.  As you may know, a pint of these cherry tomatoes is like no other you'll see.  Each pint of cherry tomatoes contains at least 3 or 4 different varieties with unique colors and flavors.  This week they're only $3.00 a pint!
Upon one of our customer's recommendation, we have added "Rogue's Mary Herbed Cheese," from Rogue Creamery to our list this week.  Please remember that you can always let us know if there are particular items you would like us to add.
Fry Family Farm has both Romaine and red leaf lettuce available, among the other many items they provide from their Summer list.  Wandering Roots Farm has broccoli, topped Japanese turnips, sweet Walla Walla onions, and many other items.  Green Beans are back on the list from Bigham Farm, and we've added a new jam, "Tayberry," to our list of offerings from Pennington Farm.
I'll be working with Dunbar Farms fairly exclusively now when it comes to carrots. They seem to have the best quality I've seen over the past few years, and now they're back on the list—the Scarlett Nantes and Red Cored Chantenay varieties. Dunbar also has parsnips this week, as well as some impressive Chioggia beets to offer.
If you'd like a delivery on Friday, September 18, please submit the online form by 6:00 pm this Tuesday evening. As you'll see, we have had a major upgrade to our website, and you will receive a confirmation email promptly that details the exact items in your order, as well as the cost of the order once you submit it.
Thank you for supporting Rogue Produce, and your local farms and small businesses.  We look forward to receiving your orders!