Hi Everybody!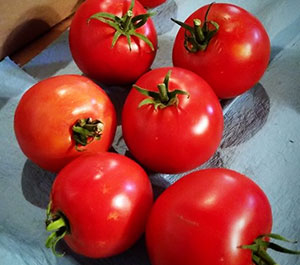 Lots of great stuff to choose from this week. There are orange honeydew melons from Whistling Duck Farm as well as their delicious salad mix on the list as usual. Bosc pears are on the list from Valley View Orchard. I got a list of what Valley View is going to have available through the winter, and it's very exciting. They're making batches of apple cider vinegar; freezing peaches, apricots, and pitted cherries; and making jams and other delicious items of all kinds!
Fry Family Farm has some healthy Romaine lettuce coming in, and Wandering Roots Farm has broccoli, topped Japanese turnips, and sweet Walla Walla onions, too.
I'll be working with Dunbar Farms fairly exclusively now when it comes to carrots. They seem to have the best quality I've seen over the past few years, and now they're back on the list—the Scarlett Nantes and Red Cored Chantenay varieties. Dunbar also has parsnips this week.
A few items are at a discount price this week, including heirloom tomatoes from Matt at Happy Dirt Veggie Patch. He's got tons of tomatoes coming in, so they should be the cream of the crop at $3.00 a pound. I am also discounting slicer cucumbers and various squash varieties because of the low prices available right now.
My current webhost has been quite stubborn in relenting to a new home, so the new website has been delayed until next week. I am very happy with my decision to create a new one since during the process we've discovered lots more problems with our current site. Thanks so much for your patience!
If you'd like a delivery on Friday, September 11, please submit the online form by 6:00 pm this Tuesday evening. Remember to watch for my confirmation email within 1–2 hours of submitting your order. If you don't receive a confirmation email, it means I haven't received your order.
I will follow up this email with each of your updated account balances.
Thank you, and I look forward to receiving your orders!