Hello Southern Oregon!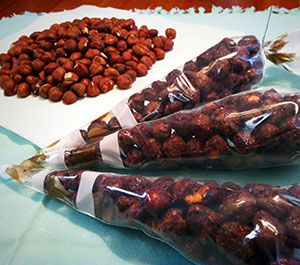 Rogue Produce begins its Winter CSA the week after Thanksgiving, on Friday, December 4. Beginning at that time, we switch from an every-week delivery to every other week. Our Standard Delivery moves from a promised value of $21–$25 every week to a guaranteed value of $50 in the every-other-week delivery. We will continue to offer the convenience of custom orders and home delivery and can skip delivery any time you need to for any reason. You don't have to wait until December to sign-up with Rogue Produce, but here's a preview of some of the delicious products we will be featuring from the best of our local farms and small businesses this winter. Support Rogue Valley local all year long!
Fresh Produce
We'll feature all the usual winter fare, including squash, leeks, onions, potatoes, kale, garlic, carrots, beets, celery, and some fresh salad mix and snap peas as well. We also have connections with farms in Northern California that supply us with delicious citrus items such as lemons and mandarin oranges in January and February. We've even been known to source fresh cranberries from organic farmers in Central Oregon as well as walnuts, almonds, and other varieties of nuts.
Dried and Frozen Fruits
We've teamed up in years past with Hi Hoe Farm to supply dried apples and pears and Happy Dirt Veggie Patch for sun-dried tomatoes. We aim to offer these items again this year as well as frozen fruits from a variety of farms, including Valley View Orchard, Pennington Farms, and Antonio's Farm. Our frozen fruit selection will include pitted cherries, sliced peaches, berry medleys, raspberries, strawberries, apricots, and more!
Dry Goods
Dunbar Farms in Medford keeps us going strong through the winter with a fantastic selection of beans, flours, and other items like polenta and popcorn. Higher Power Raw Foods is a great source for granolas, trail mix, sprouted nuts — including cashews, walnuts, and almonds — and other treats like raw crackers and chocolate bars.
Breads
Sunstone Artisan Bakery in Ashland will be cooking up a special batch or two of some of their flavorful holiday breads, and we'll continue to offer their staples of slicer loaves, baguettes, and crackers throughout the winter. Organicos is our source for the best of the gluten-free world, with tasty loaves of Cinnamon Raisin, Brown Rice, Multi-Seeded, and Oat varieties, plus a delicious gluten-free pizza crust!
And Much More!
It doesn't stop there! We'll also be delivering select cheeses from Rogue Creamery; one-of-a-kind jams from Pennington Farm and Talent Natural Farm; Olive Oil and Elderberry Balsamic Vinegar from Pasture 42; honey; tea; locally roasted coffee; pickled items; and superfoods like raw chocolates, smoothie mixes, and hot chocolate mix from Bright Earth Foods in Ashland.
Be sure to join us this winter — or today — to celebrate the finest from our local farms and food producers. We deliver year-round to Ashland, Talent, Phoenix, Medford, Jacksonville, Central Point, White City, Eagle Point, Shady Cove, and Gold Hill.