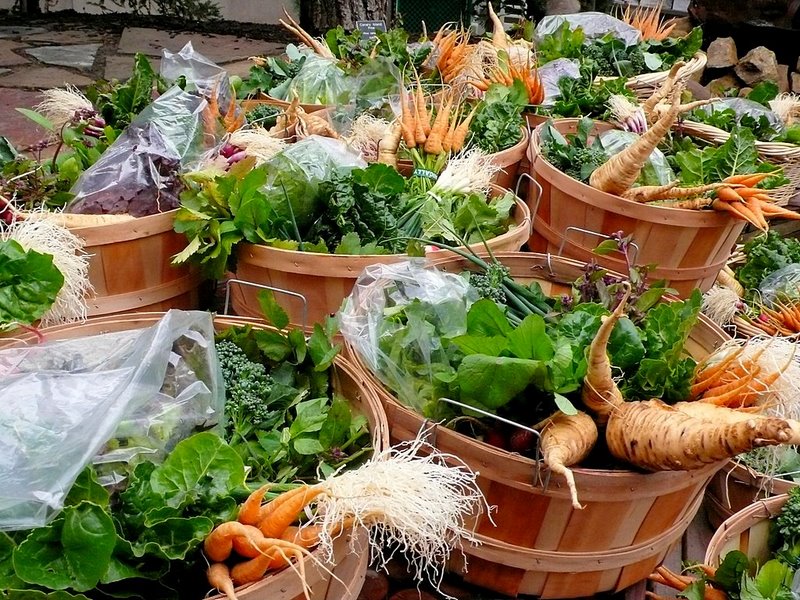 We keep the local food delivery wheels rolling throughout the year at Rogue Produce, and we've been improving our Winter selection by leaps and bounds. We've witnessed the amount of locally grown Winter produce significantly increase over the last several years, and local farmers and producers are always grateful that our service provides a year-round market where local shoppers like you can find their amazing products. This year we're going to include as much fresh produce as possible while also including the very best of the preserved items that we've been introduced to over the years (plus any delicious new products we discover on our way to Winter). If you sign-up for our Individual Account option, you can order whatever items you'd like each week of delivery, including our latest addition – organic beef! And remember, we make it easy by delivering your Standard Share or Custom Order right to the door of your home or business!
Winter recipes will be an awesome bonus to our service this season, and in addition to the ones we post on our blog and place in our bags, we would love to receive recipes from you. Feel free to submit a recipe by email (localtolocal@rogueproduce.com), or post it on our facebook page.
We aim to have a great selection of fresh vegetables through the Winter, including large leaf spinach, salad mix, living lettuce, broccoli, cabbage, carrots, beets, potatoes, Winter squash, kale, chard, basil, cilantro, parsley, leeks, onions, celery, mushrooms and much more. We aim to check out some of our farmers' market friends up north in Corvallis for organic cranberries, hazelnuts, ginger and other items that we can't source in the Rogue Valley. We also take advantage of our connection with Pasture 42 (producers of our amazing olive oil), in Guinda, CA, in order to bring home produce from their neighboring farms that grow lemons, mandarins, eating olives and more!
Organic, grass-fed and finished beef is a new item that is available on our Online Farmers Market for custom orders, including ground beef, steak, roasts, short-ribs and much more! We're partnering with Scott River Ranch, a well-known vendor at our local farmers markets, to bring you the highest quality beef products.
We are also looking forward to the frozen fruits (Pennington Farm, Antonio's Farm, Talent Natural Farm) and smoothie mixes in the Winter deliveries, as well as to the Raw Hot Coco from Bright Earth Foods! We will be putting together several recipes for hot and cold beverages/smoothies to make with raw superfood products and other items.
Here is a list of just some of the items we look forward to including in our Winter deliveries above and beyond seasonal vegetables, herbs and fruits. Now that we have begun making recipes based on the contents of each delivery, we are excited to organize creatively themed bags with all of the items we have to choose from!
| | |
| --- | --- |
| Holiday breads (with gluten free options) | Candied almonds and pecans |
| Cheeses from Rogue Creamery | Olive oil and vinegar |
| Beans (pinto, black and other varieties) | Organic beef |
| Polenta | Jams and nut butters |
| Jarred peaches and pears | Apple juice |
| Dried fruits | Citrus (from our friends in Guinda, CA) |
| Pickled items | Honey |
| Popcorn! | Pastries and pie! |
| Teas | And more! |
Winter Schedule / Farmers and Producers
We make the shift to our Winter schedule Thanksgiving week, skipping delivery that Friday, November 25th. We begin an every other week delivery schedule on December 2nd. This works perfectly, as we will end up skipping Christmas week, December 23rd, and begin weekly deliveries again on May 5th, Cinco de Mayo!
The Winter system works the same way as usual for Individual Account holders, aside from the every other week schedule. For Standard Winter CSA Share recipients, we double the value of your every other week delivery to between $45 and $50 with each share (instead of $21-$24 every week). We still have the same pricing system, only $97 will get you 2 of the double value shares (instead of 4 of the single value shares), and $278 will give you 6 double value shares (instead of 12 single value shares). If you do the math, you end up receiving a greater value during the Winter Months!
As always, we would love to hear from you as to the products and services you would like to see us provide through the Winter, and we will do our best to make sure that you don't miss out on any of the fine produce and artisan creations of our favorite local farmers and small businesses this Fall and Winter. To close this Winter update, we'd like to leave you with a list of just some of the great local farms and small businesses who will be helping Rogue Produce deliver the best of what's local through the Winter season!
| | |
| --- | --- |
| Wandering Roots Farm | Dunbar Farm |
| Antonio's Farm | Wandering Fields |
| Terra Sol Organics | Fry Family Farm |
| Noble Coffee | Scott River Ranch |
| Happy Dirt Veggie Patch | Valley View Orchard |
| Long Walk Vineyard | Bigham Farm |
| Ella Bella Farm | Four Winds Farm |
| Bright Earth Foods | Higher Power Raw Foods |
| Poetential Farm | Pennington Farm |
| Pasture 42 | Rogue Creamery |
| Rise Up! (Bakery) | Talent Natural Farm |
| Whistling Duck Farm | Becky's Pickles |
| Myriad Mycology | Ridgeline Meadows Farm |
| Old Stage Farm | And More! |