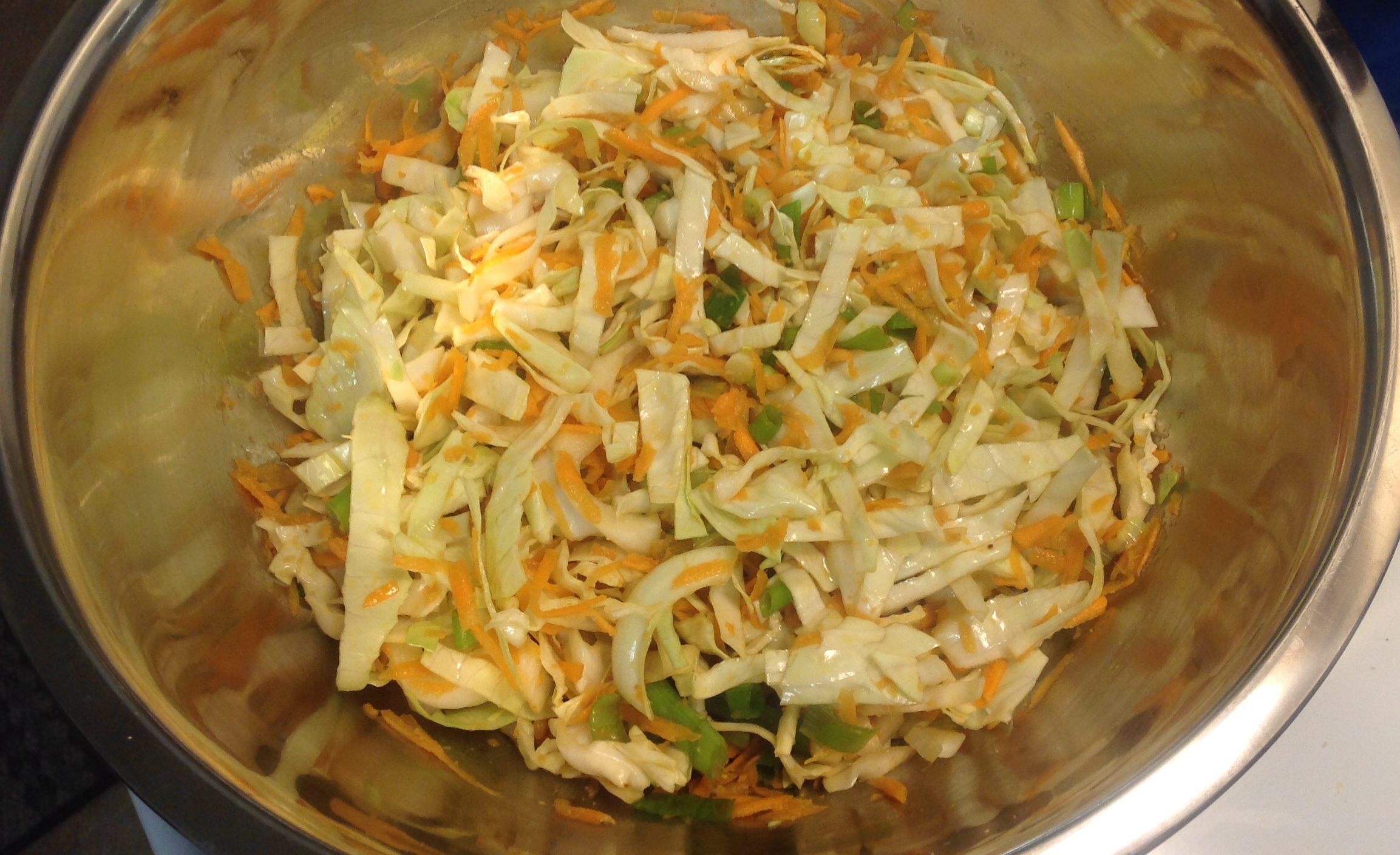 Eating healthy doesn't have to be complicated or boring. One of our favorite weeknight go-to dishes is the Sesame Cabbage Rice Bowl.  We cook up a batch of fresh rice, usually white sushi, then we prepare a vegetable medley, dressing, toss it all together and enjoy!  This meal is great for leftovers and the dish is easily adapted to include your favorite veggies, proteins and/or superfoods.  Here are the basic ingredients:
Ingredients:  
Rice and Vegetable Medley:
2 c. rice (feeds 4-5 people), dry
1 medium head of green cabbage, thinly sliced
2-3 large carrots, shredded
1 bunch green onions, chopped
Sesame Vinaigrette:
2 tbsp. organic sesame oil
2 tbsp. rice vinegar
1 tbsp. soy sauce
1 tsp. organic coconut palm sugar or brown sugar
1/2 inch of fresh ginger, peeled
Add-on Ideas:
1/4 –  1/2 head purple cabbage, thinly sliced
3-6 leaves kale, thinly sliced
bell peppers, thinly sliced
hard boiled eggs
cashews
black sesame seeds
The first step is to cook the rice.  We use a rice cooker with a feature that keeps the rice at temperature for up to 2 days.  While the rice is cooking, prepare the vegetables and place in a large bowl (the bigger, the better).  In a mini food processor or blender, combine the vinaigrette ingredients and mix until mostly smooth.  Toss the vinaigrette with vegetables until the vinaigrette is evenly distributed.  For culinary flare, include your favorite add-ons to create a rainbow of color and/or get your daily dose of protein.  Garnish with sesame seeds and enjoy!  Let us know what you think, and please share pictures of your own creation!
To your health and happiness,
Your friends at Rogue Produce