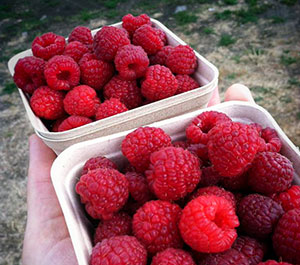 Here's a recipe for a quick and easy, nutrient-rich green smoothie both parents and children will love!
The ingredients include items from Bright Earth Foods in Ashland: Raw Green Smoothie Mix, Superfood Smoothie Mix, and Extra Virgin Coconut Oil. We also use the famous Smoothie Berry Mix from Pennington Farms in the Applegate Valley!
You can get your local ingredients for this recipe here, and you can purchase the Rogue Smoothie ready-made at the Organic Grind in Talent!
Rogue Smoothie
Servings: One 16-oz. delicious smoothie
Ingredients
10 oz. water
1/4 cup Raw Green Smoothie Mix
1/2 tbs. Rainbow Superfood Smoothie Mix (double if you like the chocolate flavor)
1/2 tbs. extra virgin coconut oil
1/2 cup Pennington Farms Smoothie Berry Mix
1/2 banana
1/2 cup ice
Notes
The features we love about this smoothie are that it is ultra-rich in nutrients, tastes great, and is low-maintenance—and our kids love it! We also add some fresh spinach or kale from time to time if we feel like we need fresh greens.
Hope this helps you enjoy Smoothie Season!
Remember, you can order Bright Earth Foods products and the Smoothie Berry Mix through our Online Market.