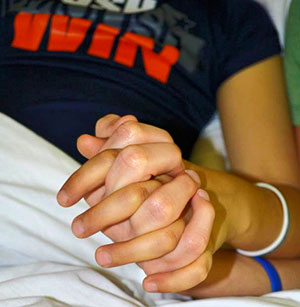 Our family has been enriched in so many ways through the creation and operation of Rogue Produce. We have had the wonderful opportunity to establish relationships with local growers and producers as well as with hundreds of amazing families in our region that love eating the highest-quality foods while supporting our local economy and sustainable food culture.
We recently partnered with a local 501c3 nonprofit charity, the Ethan Jostad Foundation, so we can begin giving back to our community by supporting families dealing with a great hardship—childhood cancer.
The Ethan Jostad Foundation was established in 2011 by Kimberly and Chris Jostad, who lost their son Ethan to cancer that same year. The foundation provides financial aid and support to Oregon families who have children impacted by childhood cancer; gives toy packages to children (and their siblings) in active cancer treatment; and helps fund childhood cancer research at OHSU.
Every year during the month of September (childhood cancer awareness month), Rogue Produce donates 10% of total profits to the Ethan Jostad Foundation, and we would love your help in making this fundraiser as successful as possible. If you've been thinking about signing up or gifting a friend or loved one with our service, now is a great time!
Take this opportunity to support a great cause by signing up as a new customer or renewing your service in September. You can learn more about the Ethan Jostad Foundation by visiting their website.
Thank you for supporting local!
Adam & Stephanie Holtey